Since 1996, Youth As Resources has funded 411 projects totaling over $270,000. Scroll down or click on the program years listed below to read about recently funded YAR projects.
2016-17   2015-16    2014-15    2013-14     2012-13     2011-12     2010-11     2009-10     2008-09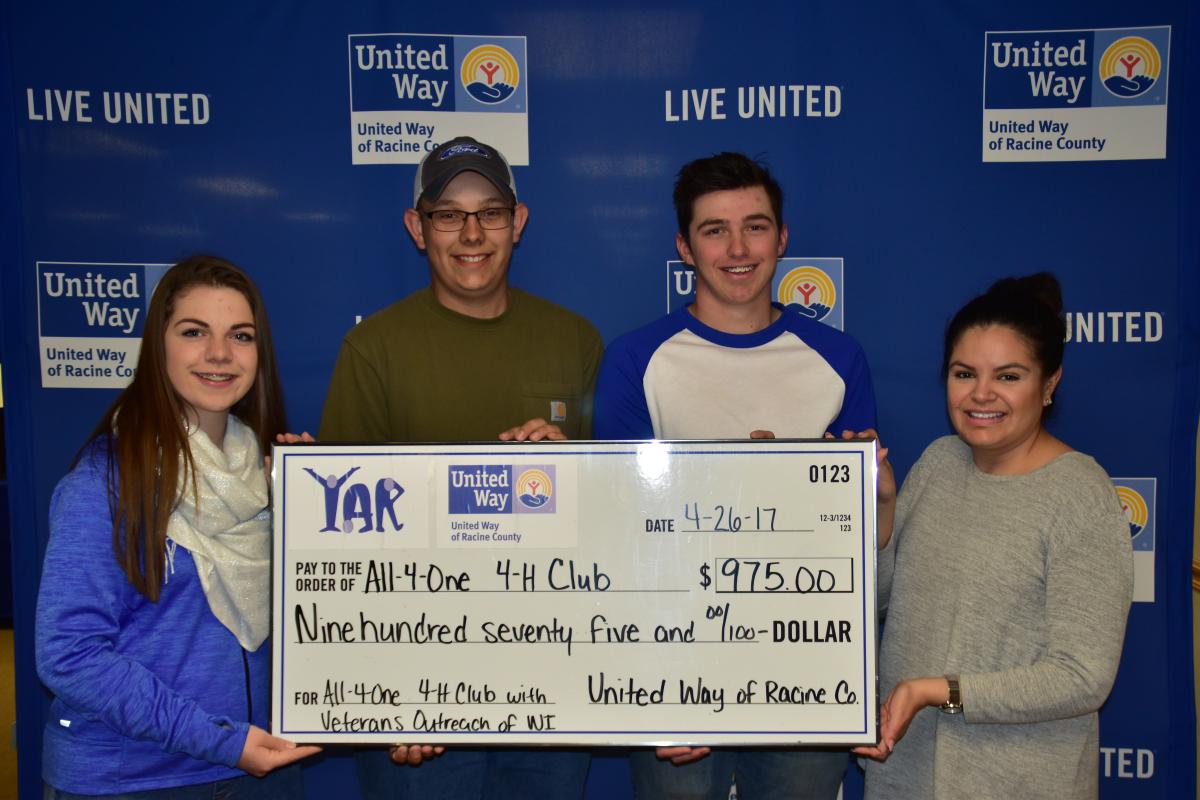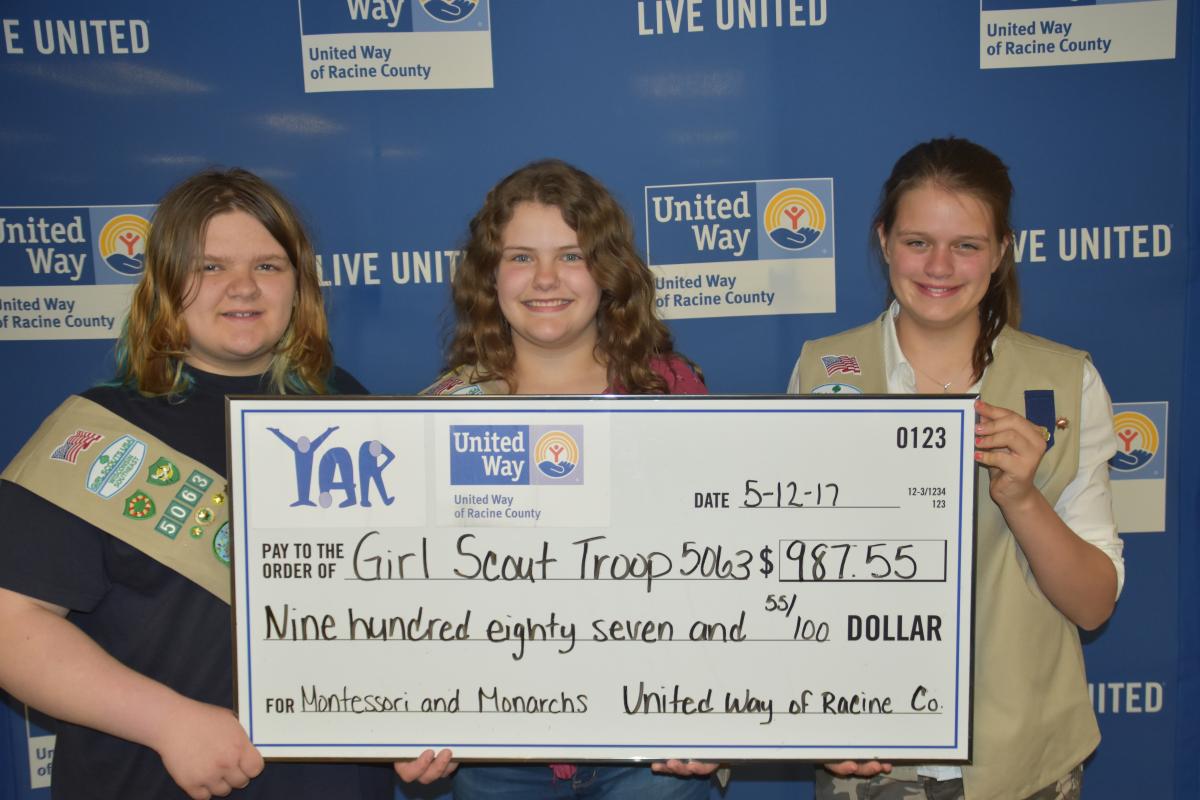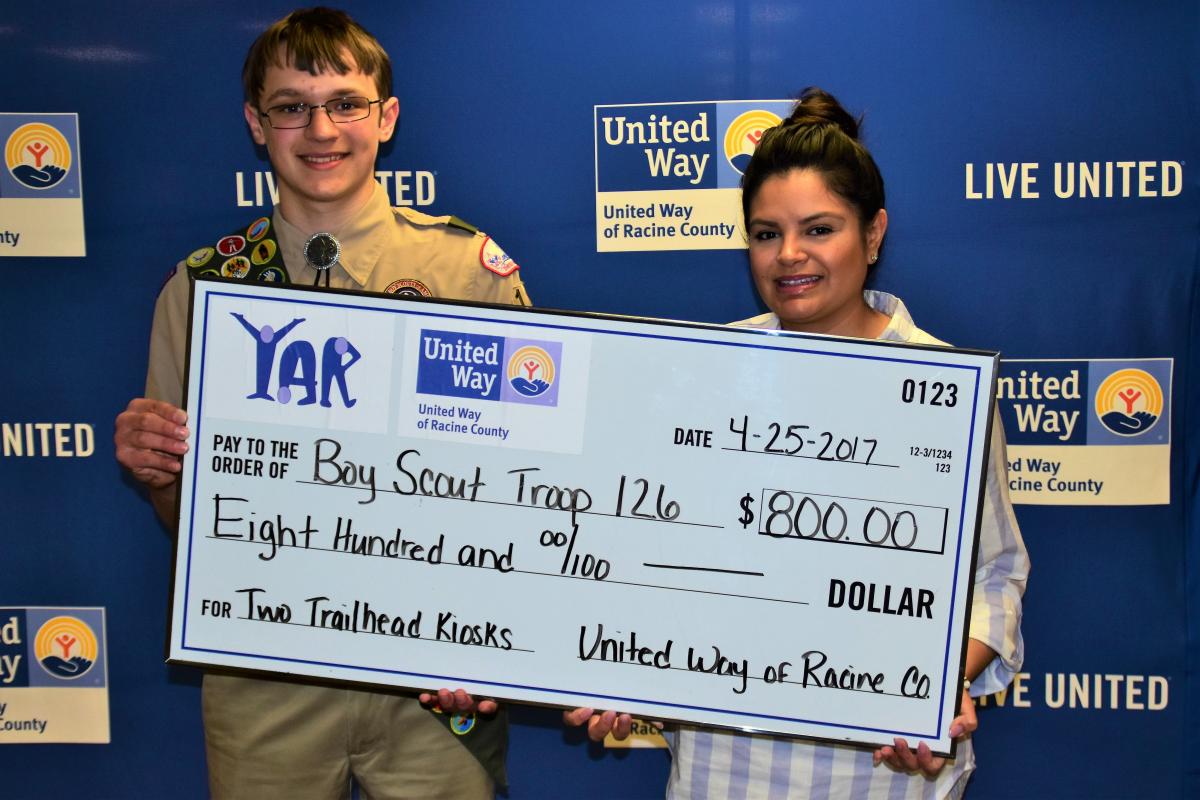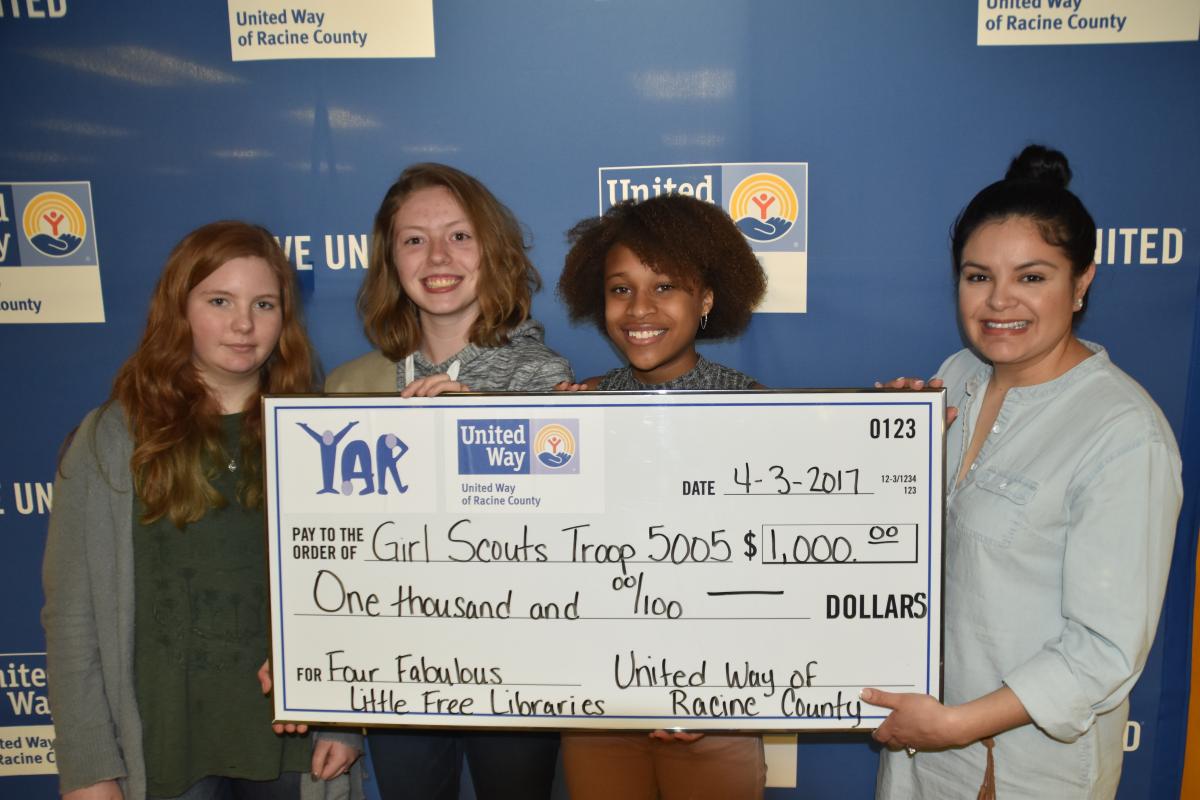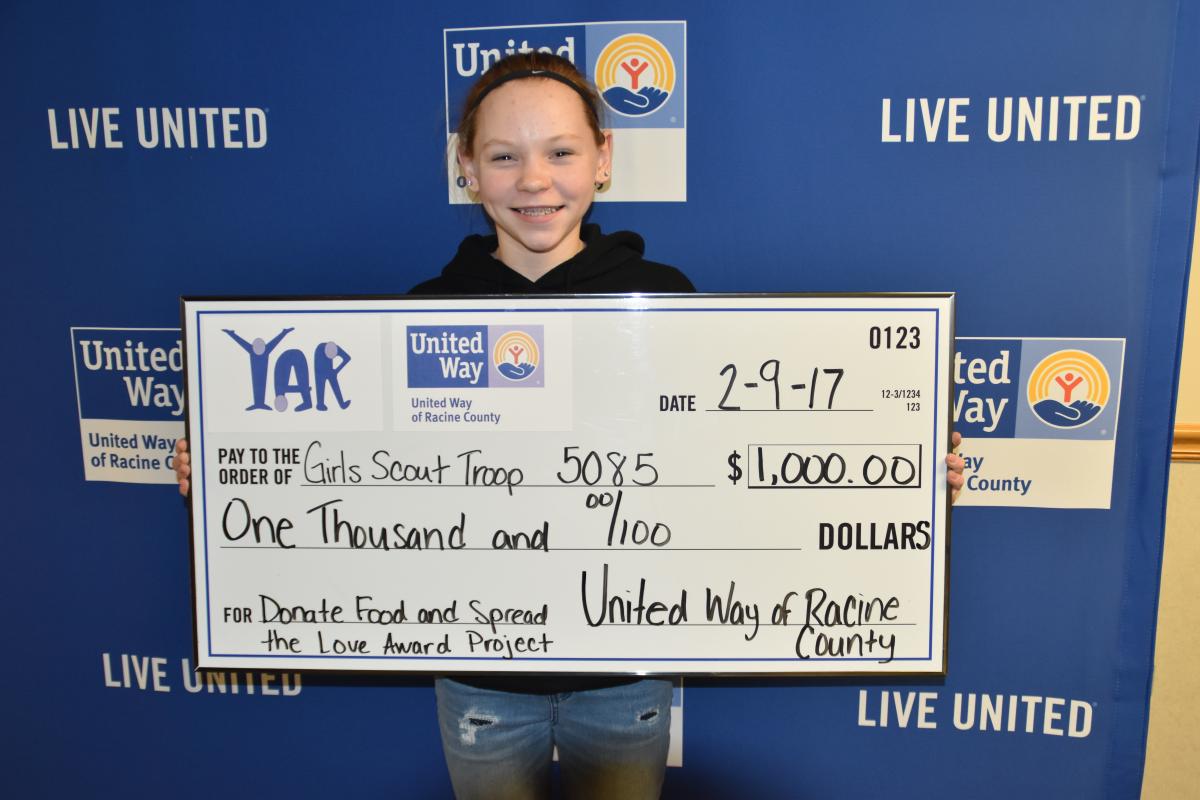 Donate Food and Spread the Love Silver Award
Girl Scout Troop 5085
Funding: $1,000
Girl Scout Troop 5085 member Marissa Polzin donated non-perishable food bags filled with healthy meal recipes, measuring cups, and a grocery gift card for 50 clients of Bethany Apartments. This project received the Great Grant Award for exemplary fulfillment of the YAR grant guidelines. 
Four Little Free Libraries Silver Award Project
Girl Scout Troop 5005
Funding: $1,000
The troop built and will install four LFL in Racine. The students wanted to curve the literacy gap among children and adults. The libraries will be installed summer of 2017 at Gloriou Light Church, Racine Montessori, and two at Zoe Outreach Ministry. 
All-4-One 4-Club with Veteran's Outreach of Wisconsin
All-4-One 4-H Club 
Funding: $975
The student in the 4-H Club partnered up with Veteran's Outreach to build and install eight garden boxes for residents of the Tiny Home Village. The project will benefit countless of individuals and families. Veterans will be able to sow each season and reap the rewards of their hard work.  
Eagle Scout Project: Two Trailhead Kiosks
Boy Scout Troop 126
Funding: $800
Boy Scout Troop 126 will build 2 trail kiosks for the Caledonia Conservancy trails. Each kiosk will include a bulletin board, bench and a roof. The bulletin board will be used to post trail maps, safety information, and coordinates that can be used by hikers and first responders. 
Montessori and Monarchs
Girl Scout Troop 5063
Funding: $987.55
The troop will build a butterfly garden, bench and bird bath in the Racine Montessori School garden. The garden will provide plants that Monarch butterflies will visit during their annual migration. The girls will visit local farmers markets to distribute milkweed plants and informational pamphlets to encourage community members to support monarch butterflies and better understand their importance in our eco-system. 
Family Literacy of Racine Youth Group
Funding: $992.43
The 6th and 9th grade students at Family Literacy of Racine created a hallway gallery and art cart. The students wanted to give Women's Resource clients a chance to display the art they create during art therapy.
Jerstad Agerholm Middle School
Funding: $1,000.00
The 7th grade class at Jerstad Agerholm Middle School gave 26 handmade blankets for Faith Hope and Love's 'Duffle for Kids' program. These students wanted to give children who have been removed from their home a warm blanket to comfort them.
Youth of Yesterday
Searching Together Youth Group
Funding: $1,000.00
The Searching Together Youth Group created holiday gift baskets to be given to the elderly residents of Trinity Terrace. The youth saw this as an opportunity to connect with the elderly they said their goal is to, "show them that us teens still care for them."
Racine AmeriCorps Chapter
Funding: $1,000.00
Five members of the Racine AmeriCorps Chapter removed invasive species from the Root River. By removing the invasive species the Racine AmeriCorps chapter helped protect the Root River and its wildlife inhabitants.
Girl Scout Troop 5063
Funding: $920.73
Eight health conscious 5th grade Girl Scouts hosted the "Girls Rule Health Fair" at Trefoil Oaks. Those who participated in the fair rotated through four stations: cooking, exercise, health trivia and emotional health.
Walden Wheels Planning Commission
Funding: $1,000.00
A group of 16 Walden students brought the community together by letting people know about the 15th annual Walden Wheels Car Show. These students created flyers and did their best to take care of the volunteers.
Feel's Eagle Project Troop 142
Funding: $1,000
Troop 142 built ten, eight foot wooden boardwalks for the Caledonia Conservancy's 14 acre Neighborhood Central Walk. These boardwalks acted as bridges over wet areas so that walkers can enjoy the nature trail year round.
Gift of Warmth
RFC Bond
Funding: $479.00
Members of Racine Friendship Clubhouse's youth group made fleece blankets for children at the Women's Resource Center. The youth wanted the children to feel loved and appreciated during difficult times when they might otherwise feel forgotten.
Park Recycles
Park High School Key Club
Funding: $760.00
Students from Park High School's Key Club created a paper recycling program with the support of the school administrators, department chairs and custodial staff. Ninety recycling bins were purchased and spray-painted with a custom Park recycling logo before being placed in the school's classrooms.
Young Eagles Rally at KBUU
Burlington High School DRIVEN Leadership Program
Funding: $1000.00
Members of the Burlington High School DRIVEN Leadership Program hosted a Young Eagles Rally at Burlington Municipal Airport. The event was open to the public and gave youth ages 8-17 the opportunity to learn about aviation and go for a free plane ride.
Teen Institute
Teen Peers
Funding: $1000.00
The YAR grant provided four scholarships for Racine County youth interested in attending the Teen Institute conference. At the conference, teens had the opportunity to develop positive life skills and attend topics such as substance abuse prevention and team building. Scholarships were awarded based on applications showing their interest in the conference and how it would help them grow as a person.
Matthew Fox BSA Troop 336 Eagle Scout Project
BSA Troop 336
Funding: $1000.00
Matthew Fox raised a flagpole so the American Flag could be flown at Town of Burlington Fire House station number 3 in Cedar Park. A garden was planned and landscaped so a memorial stone could be displayed.
The Thousand Dollar Make-Over
Family Literacy of Racine Youth Group
Funding: $1,120.00
Middle and high school youth from Family Literacy of Racine redesigned the family healing room at the Women's Resource Center of Racine. They created a safe and cheerful place for mothers and children to read, do homework and play.
Walden Wheels
Walden High School Room 316
Funding: $640.50
Regular and special education students from Walden High School hosted a community meal and car show. Community members were invited to attend so they could meet the students. Thirty Julian Thomas fourth graders from the Positive Impact program also attended so they could learn about middle and high school from responsible teenagers.
Good Night, Sleep Tight
Sophia Torosian, Girl Scout Troop 5754
Funding: $910.00
Sophia made 90 unique pillowcases for residents and children at HALO. The pillowcases could be used at HALO and then brought along once the residents transitioned to independent living situations. Sophia said, "I felt like the residents at HALO needed something to keep with them… a fun or pretty piece of bedding for their new homes."
Project Plant It
Horlick Student Government
Funding: $1,075.00
Students from Horlick High School's Student Government and the horticulture class will work together during the fall 2013 semester to beautify and brighten the front of the school. They want to improve the school and the community by promoting a more positive school environment.
Redo School Tool Storage
Boy Scout Troop 303
Funding: $996.00
Boy Scouts from Troop 303 worked to finish and organize a garage at the Burlington High School forest. They finished the ceiling, created shelves and installed storage hooks to make it easier for both students and teachers to find tools and use the equipment.
TLC Playground
Boy Scout Troop 334
Funding: $910.00
Boy Scouts from Troop 334 built a new playground area at the Transitional Living Center in Burlington. They wanted to create a safe and fun environment for the children there, so they removed old play equipment, installed a new wooden play set and spread mulch around the area.
Sports of All Sorts Day
Family Literacy of Racine Youth
Funding: $970.00
Students from Family Literacy of Racine hosted a "Sports of All Sorts" party for youth at HALO. They wanted to give them a non-holiday party, so they held a "tailgate," had sports stations and goodie bags, and educated the children about eating right and staying active.
Walden Wheels
Walden High School Study Group 316
Funding: $640.50
Regular and special education students at Walden High School held a community meal and car show to help strengthen relationships with the community. Home schooling families from Racine were invited so that the students could meet new people and learn more about cars.
Students Supplying Students
Horlick Student Government
Funding: $1000.00
Ten students from Horlick High School's Student Government purchased school supplies to fill 35 backpacks for low income students. They were given to teachers, counselors and social workers to distribute to students at the beginning of the school year, with additional supplies available as needed throughout the school year.
Recycling Initiative
Team Recycle
Funding: $1000.00
Students at Case High School developed and implemented a recycling awareness campaign at their school. They put up posters, distributed brochures and placed large recycling bins in the school's cafeteria and main entrances. The project culminated in a school-wide Recycling Day so students could bring in batteries, cell phones and clothing to be recycled or donated.
Spring Celebration
Racine Family Literacy Youth
Funding: $730.00
Youth from Racine Family Literacy hosted a spring celebration for the residents of St. Monica's Senior Home. They decorated the party space, helped seniors decorate baskets and held an Easter egg hunt. A bingo game was held and every senior received a small bingo prize and a handmade card.
Walden Wheels
Walden High School Study Group 316
Funding: $608.00
Regular and special education students from Walden High School hosted a community meal and a car show. The event was an opportunity to show the community that students are engaged in positive activities.
Karcher Community Clean-up
Karcher Middle School Student Council
Funding: $1302.89
Seventh and eighth graders from Karcher Middle School worked to improve schools and parks around Burlington for Earth Day. They picked up trash, cleaned the playground equipment and spread mulch at the playgrounds. In addition, they created posters to be hung at each site to promote YAR.
Project Pen Pals
5th Graders-Jerstad and Johnson Schools
Funding: $400.00
After writing to each other two or three times per month since the beginning of the school year, pen pals finally had a chance to meet in person. The project taught the students communication skills, as well as how to respect and understand individual differences. Regular and special education students were included in pen pal pairs so they could all learn compassion and understand that other kids really aren't that different from them.
Care Kits by Kids Who Care
Girl Scout Troop 5660
Funding: $1000.00
The girls of Girl Scout Troop 5660 put together care kits that included age- and gender-appropriate personal hygiene items, socks and underwear for homeless youth. They held collection drives at their schools, churches and businesses for additional items. The care kits were distributed by Racine Unified School District counselors and social workers.
Project Dare to Hope
Youth with a Purpose
Funding: $800.00
The youth group from Searching Together Missionary Baptist Church hosted an open conference for all youth. Volunteer speakers from the Racine Police Department and the AIDS Resource Center of Wisconsin came to talk about bullying, domestic violence, sexting and AIDS/HIV awareness.
Story Book Friends
PAC House
Funding: $652.04
Nine special needs young adults read stories to over 500 early childhood and kindergarten students in Burlington schools. Each of the 27 classrooms received a book and a stuffed animal. They wanted to show that people with special needs can still be valuable positive influences in the community and that reading is important at any age.
Expect Respect Horlick
Expect Respect Horlick
Funding: $1000.00
High School students from Horlick High School created posters, videos and voice recordings to promote respect. They focused on encouraging the use of respectful language and using fewer profanities. The students also worked with businesses frequented by students to improve relationships.
Battle of the Bottles
Walden III Green School
Funding: $861.00
Middle school students from Walden III designed costumes and a skit to promote recycling, the use of reusable water bottles and helping the environment. The skit was performed at the school and the Root River Revival at the Root River Environmental Center.
Merry Christmas
Project Charm
Funding: $1000
Teens from Project Charm, a group that promotes positive self-image, respect and healthy relationships, hosted a holiday dinner party for 35 underprivileged children. The children participated in a sing-a-long, created holiday crafts, met Santa, and received a gift. The children's families were given the opportunity to win a food basket filled with food from local community centers.
Medicine Wheel Garden
Girl Scout Troop 5536
Funding: $1000.00
Five girl scouts created a Medicine Wheel garden at the Eco-Justice Center. It contained over 30 varieties of perennials native to Wisconsin planted in quadrants divided by color. The layout was a traditional Native American Medicine Wheel, with red crushed rock paths leading to a peace pole in the center of the garden.
 
Joining Generations Fiesta
Racine Family Literacy Youth
Funding: $720.00
27 youth from Racine Family Literacy hosted a Cinco de Mayo Fiesta at St. Monica's Senior Home. They cooked authentic Mexican food and taught the seniors how to make a balero, a traditional ball-and-cup game. The youth also performed live music and taught the seniors about Mexican culture and Cinco de Mayo.
 
Dogs and Cats Galore
Girl Scout Troop 5754
Funding: $733.90
15 fourth and fifth grade Girl Scouts from six schools completed a project to benefit animals at the Countryside Humane Society. They made seven homemade pet beds and read to the animals to keep them calm. They created brochures and set up a display table to teach pet owners about spaying and neutering, animal cruelty and animal care. They also organized a pet supply drive at their schools for items to be donated to the Humane Society. Finally, they put together pet care kits to be sent home with adopted dogs and cats.
Tree Kiosk
Boy Scout Troop 334
Funding: $1032.39
The Boy Scouts built 20 wooden kiosks to contain information about plants and trees found in an area of forest near Burlington High School. Forestry students from the school created the informational sheets for each kiosk.
Day at the County Fair
Big Sisters
Funding: $956.61
Big Sisters accompanied their Little Sisters to Children's Day at the Racine County Fair. The Little Sisters visited the petting zoo and learned about the animals in barn tours with 4-H members. They learned animal care, how animals are prepared for show and how the animals are judged.
Walden Wheels
Walden High School Study Group 316
Funding: $385.00
High school students from Walden III hosted a community meal and car show for students and community members. The event was designed to build the relationship between students and the residents of the neighborhood.
Roots
Racine Urban Garden Youth Committee
Funding: $1006.00
Youth from the Garden Youth Committee helped youth from Cops 'n Kids create and maintain a garden plot at the Racine Urban Garden. They worked with other groups of youth such as daycares and Girl Scout Troops to teach them how to plant, maintain and harvest the garden.
Construction for Instruction
Science Sisters Creating Jammin' Walls
Funding: $1000.00
Mitchell Middle School students painted the wall of the science department classrooms and labs. They used different effects in different areas, including the use of magnetic paint and the lazure method of painting.
North Basin Natural Restoration
Sea Scout Ship 5750
Funding: $917.00
Youth and adult members of Sea Scout Ship 5750 worked to clean up and restore an area south of North Beach in the Racine Harbor. They picked up litter and trimmed overgrowth before using an approved herbicide to kill weeds. The remaining vegetation was burned and they planted a native species of beach grass to fill the space.
Warmth Packages
Tucker 4-H
Funding: $1000.00
Youth members of Tucker 4-H decorated gloves and hooded sweatshirts and packaged them to be donated to Love and Charity Mission. At the distribution, they set up games and activities to interact with the youth at the shelter. The unused packages were brought to Peace Home to be distributed to more people in need.
We Say Yes!
Emmaus' Youth Group
Funding: $800.00
Members of Emmaus Lutheran Church's youth group prepared food baskets for 16 community families. Food came from donations and from the YAR grant. In addition, the needy families were invited to a community dinner held at the church. There, the youth group presented a Christmas program.
Kindness at the Kismet Klub
San Juan Diego Caring for Our Community
Funding: $340.00
Students from San Juan Diego Middle School raised awareness about mental illness and how isolating it can feel to have a mental illness. They visited the Kismet Klub and worked with the clients to complete crafts, such as t-shirts to raise awareness.
Girls Night Out
Girl Power
Funding: $1000.00
15 youth members of Girl Power held a lock-in at the Dr. John Bryant Community Center. The event was publicized at local middle schools so girls could visit and learn about resources available to them. Local agencies set up informational tables. The youth also helped distribute food and led discussions and activities that provided solutions to difficult situations, such as peer pressure.
Eagle Project
Boy Scout Troop 334
Funding: $1000.00
Boy Scouts from Troop 334 cleared invasive species, brush, and debris from a path leading to a storage shed and waterfront used by Burlington High School classes. Dirt fill was used to level the path and grass was planted. They also installed donated benches and shrubs.
Welcome/Layette Baskets
Our Savior's Lutheran Church Youth Group
Funding: $1000.00
Members of the youth group created ten family baskets containing games, books, toiletries, undergarments, and an inspirational note. They also created eight layette baskets containing diapers, bottles, toys, and other baby essentials. The baskets were distributed by HALO staff to families in need. In addition, the youth hosted an Easter celebration at HALO where children dyed eggs, completed crafts and went on an Easter egg hunt.
Blue Ribbon Campaign Balloon Release Competition
SAFE Haven Youth Shelter Youth Advisory Board
Funding: $500.00
Ten youth members of the Youth Advisory Board helped organized, publicize and carry out a balloon release at Monument Square. The biodegradable balloons each had a card attached to it containing information on child abuse in Racine County.
Dinner and Friendship
Racine Family Literacy Youth
Funding: $720.00
Youth from Racine Family Literacy worked with their parents to prepare authentic Mexican dishes. The dishes were served to residents of St. Monica's as part of a Cinco de Mayo celebration. The youth taught the seniors about Cinco de Mayo and Mexican culture.
1 Student + 1 Mentor = 2 Lives…Changed Forever
PALS (Peers Actively Leading and Serving)
Funding: $1000.00
24 Union Grove Union High School upperclassmen served as mentors to 17 struggling or at-risk incoming freshmen. The upperclassmen held a welcome picnic, offered learning incentives and conducted teambuilding activities with the freshmen.
Helping Hands with Green Thumbs
Helping Hands
Funding: $500.00
Youth ages 6-14 from the Helping Hands club worked with adult church members to build a tool rack and prepare four garden plots at the Eco-Justice Center. Local families were invited to use the plots and the youth helped them plant vegetables and maintain the plots. The harvested vegetables were used by the families and extra produce was donated to HALO and the Food Bank.
Girls Just Wanna Have Fun
The Glamorous Girlz
Funding: $1000.00
Six middle school students from San Juan Diego Middle School hosted a pajama party for children and mothers in shelter, in the Transitional Housing Program and Outreach programs. Guests received their own pajamas, played icebreaker games and visited stations run by the youth. Activities at each station included face painting, cookie decorating, karaoke, and putting on makeup. They also helped decorate quilt squares that were made into a quilt that was displayed at HALO. Pictures were taken and the girls watched a slumber party movie.
Attic Update @ the CATHE Center
Boy Scouts
Funding: $919.00
Boy Scouts from St. Mary's Catholic Church cleaned the attic of the CATHE (Community Art Technology Health and Education) Center and installed shelving units and clothing rods to provide storage space for props and costumes for the theater department.