Small business. Big impact.
The 365 Small Business Circle is a group of local small business owners who are committed to investing in ongoing, impactful and meaningful work in Racine County through United Way. United Way of Racine County has created an easy and affordable way for small businesses to make a lasting impact in their community. Being a member of the 365 Small Business Circle aligns your business with United Way and our long history of bringing people together around the issues that
matter most.
We all benefit when children succeed in school, families are stable and secure and our community has access to the resources needed for healthy lives. Your business will also benefit as we work together to create a better-prepared workforce and a stronger economy.
How to join
For an annual gift of $365, or one dollar per day, businesses can become members of the 365 Small Business Circle.
Members can contribute through a direct owner contribution, challenge staff or customers to pitch in to raise $365 or host a fundraising event, such as an in-store benefit or sales promotion with proceeds benefitting United Way of Racine County.
Member Benefits
365 Small Business Circle decal
Link to your business included on UWRC website
Listing in UWRC's annual report
Yearly recognition of your business on social media
Provide volunteer opportunities for your employees
Boost your business as a philanthropic leader in Racine County
Investment in community solutions
Opportunities for new business
Bring new talent to your workforce through community support recognition
Current Members: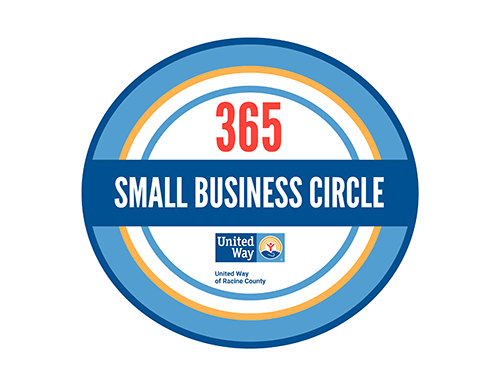 The stats on charitable small businesses
According to data from SCORE.org, an organization that promotes small business education and growth, charitable small businesses typically see the following:
77% of employees from charitable small businesses report general well-being.
93% of employees who give back through volunteerism express contentedness with their employers.
85% of small business patrons say they have a more positive view of charitable small businesses. 
For more information or to donate a different amount or service, please contact Stephanie Buchanan, Investor Relations Manager at sbuchanan@unitedwayracine.org or 262-664-4721